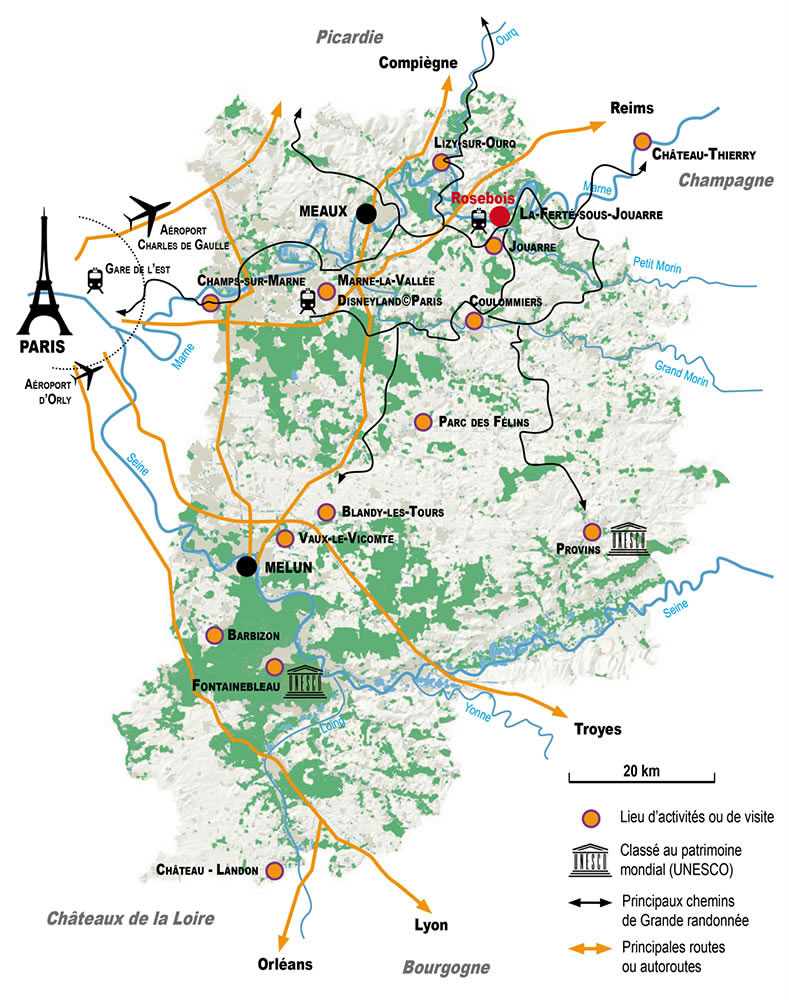 The Ferté-sous-Jouarre
and the Fertois Land
North of the Seine et marne department, La Ferté-sous-Jouarre is located at 40 minutes from the Paris-Gare de l'Est railway station or one hour by car on the A4 motorway. This town gave its name to a region called the « Pays Fertois ». From Meaux to Château-Thierry, it follows the pleasant riversides of the Marne river. The Pays Fertois has a rich and diversified patrimony ranging from neolithic necropoli to the first bridges made of pre-constraint concrete. In the Merovingian crypts are found the tumbs of the founderesses of the Abbey, the present moniales still lead nowadays a contemplative life as they have done during 1400 years.
Close to Coulommiers can be found the internationally well known the Galleria Continua dedicated to contemporary art.
French and European historical people have lived or stayed there: kings, queens, emperors and prelates, also scientists and welle known painters and writers.
A web of hiking paths, lanes and country roads passes through villages, valleys, woods and forests.
Also rather close to the « Pays Fertois »are sportive and recreative equipments which can easily be used.
Eurodisney and Marne la Vallée namely are located at 30 minutes by car of La Ferté-sous-Jouarre.
To discover our region do not hesitate to contact us at: mbglaize@wanadoo.fr

Ⓒ rosebois.com All rights reserved. |
Privacy policy
|
Terms and conditions
|
Contact