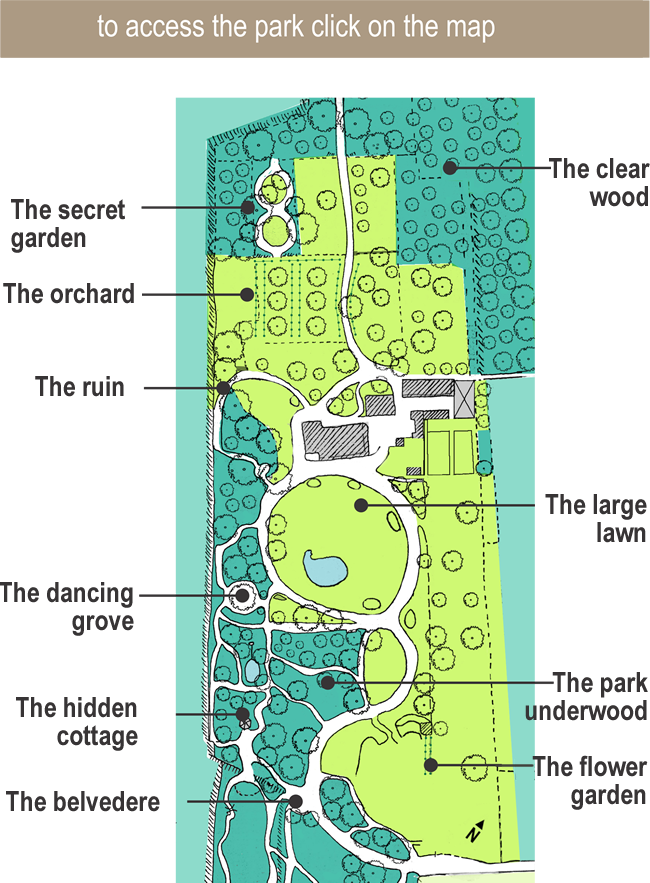 A picturesque Park
from the 19th century
What makes today this park and gardens a very special place is indeed the protection of the original park design from the « second empire » but also its geographic space organization.
As soon as the park was created, Esther-Rose and Auguste Glaize are going to take advantage of the narrow piece of land which was previously an orchard and vineyard.They are going to give the illusion the park is much wider than the limits seem. The Rosebois domain recalls a glade in the middle of a big forest but if one looks up in the horizon it will project our sight towards the distant « vallée de la Marne ».
The park and the gardens are designed along the axe on one side on the hillside, and on the other part around the wide lawn in the shape of a palette with its spots of coloured flowers. Once we have crossed the clear wood on the other side of the hillside, discreetly nested are the secret garden, the orchard and the ruin. On its western edge the yews of the dancing room invite us to dance. In the transparency's park underwood one discovers August's hidden cottage. A little more towards the east, there is a cedar of Lebanon planted in 1865 by Esther-Rose which leads us to the florist and then further down to the original main entrance.

Ⓒ rosebois.com All rights reserved. |
Privacy policy
|
Terms and conditions
|
Contact